Turkish Coffee Reviews
1. Mehmet Efendi Turkish Coffee

This is an imported coffee that is from the premier coffee company in Turkey. Use a traditional Turkish method of making the coffee using a "cezve" which is a Turkish coffeepot. This is the only way you should ever taste coffee, the way it was first made after being discovered in the Middle Ages.
The best way to make this coffee is to use a full coffee spoon of coffee for each person, a cup of water per person, and sugar to taste. Begin by adding and mixing together the coffee, sugar, and cold water into the coffee pot. Keep your heat on low until the foam appears at the top of the coffee pot. Pour the foamy part of the coffee into a Turkish coffee cup which is referred to as a "fincan", if at all possible. Then bring the remaining coffee to a boil. Pour the boiling coffee over the cup all the way to the top. Coffee is now ready to serve.
---
2. Cafe Najjar Classic with Cardamom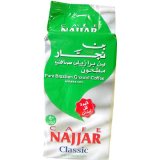 This is a Turkish-style coffee made exclusively with Brazilian Arabica beans. Product of Lebanon. The 100% Arabica coffee beans are roasted and finely ground along with cardamon to provide a very distinctive flavor of coffee.
---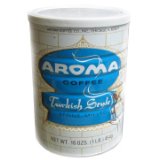 This is a one pound container of Turkish style ground coffee.
To brew this coffee measure on demitasse cup of cold water into a narrow-necked coffee pot or "briki". Then add a teaspoon of coffee and sugar per your taste. Over medium heat bring the coffee mixture to a boil and remove from the heat source as soon as the coffee rises. Pour into cups dividing the foam equally into each cup. Once the coffee has been poured never stir it.
---
4. Turkish Survival Coffee Kit
Set includes one small ibrik. Coffees included: 1/2 lb. of Natashas Cafe Turkish coffee. Also includes Instructions for making Turkish coffee, gift message card, some straw and a box.
---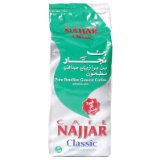 5. Green Najjar Turkish Style Coffee
Very overpowering cardamom flavor in this one pound bag of Turkish coffee imported from Beirut, Lebanon. Blend of Arabica beans from Brazil along with cardamom for a very popular coffee in the Middle East.
---
6. Arifoglu Turkish Blended Coffee Set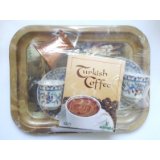 This is a set that includes 2 Turkish coffee cups with classic patterns for those who prefer drinking coffee made the Turkish way. Set also includes 4.4 ounces of special Turkish blended coffee from the Spice & Tea manufacturing company Arifoglu. Lastly, it contains a classic copper Turkish coffee pot and one metal tray. Makes for a perfect gift.
---
7. Blue Najjar Turkish Style Coffee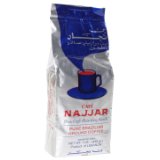 This is a one pound bag of freshly roasted Blue Najjar Turkish style coffee that is of a very fine grind. It is simple and yet romantic, strong yet not bitter. Pure Brazilian without cardamom.
Mr. Najjar started his family business so long ago the name is almost synonymous with coffee on the Middle Eastern restaurant circuit. Imported from Beirut, Lebanon this brand is by far the most popular for Middle Eastern folks.
---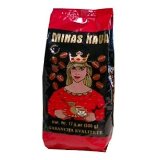 This is 500 grams of ground Mljevena kava. Product is imported from Croatia. Directions to make coffee: 1.For each cup desired, measure one demi-tasse cup of cold water into a briki or narrow-necked coffee pot. 2.Add one teaspoon of coffee and sugar to taste. Stir well. 3.Bring to a boil over medium heat. 4.Remove from heat as coffee begins to rise and pour into demi-tasse cups, dividing the foam equally between each cup. Coffee should not be stirred once it has been poured.
---
9. Greek Turkish Style Coffee from Loumidis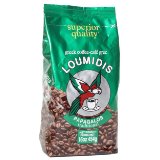 One pound bag of Loumidis Greek Turkish coffee. Coffee is imported from Athens and is a sweet blend that is made from Brazilian coffee beans and chicory.
Greek Coffee is imported from Athens. It's a sweet blend of Brazilian coffee and chicory. If you've been to Greece you know exactly what I mean - there's nothing like it anywhere else in the world. Its made the same way as Turkish coffee, in ibriks, but of course the Greeks would never call it Turkish. Freshly Roasted, Brazilian Bean, Strong but not bitter, Very Fine Grind, Simple and Romantic,
---
10. Landwer Turkish Original Ground Coffee
100% Pure Blend Of Carefully Selected Arabica And Robusta Beans. Fine Ground Turkish Coffee Original Roast Freshness Guaranteed Kosher For Passover & All year Round.
---
With its unique bold flavor profile, this coffee is served throughout the Middle East and extends its popularity into Eastern Europe and the Northern parts of Africa. The basic blend is a combination of powdered roast coffee and sugar which dates back centuries, forming a rich culinary tradition. There are variants of Turkish blended coffee for each region, where the drink has a wide following in Europe and Africa alike.
In fact, Turkish blended coffee has influenced a wide variety of regional variants which have taken on their own unique blends, including Egyptian, Lebanese and Israeli coffees. These variants are all based upon the original Turkish blends, which date back to the Ottoman era. While each of the regional types is unique in serving methods and ingredients, the coffees share a common set of general preparation steps.
Preparation utilizes a kanaka, which is a small coffee pot to brew the particular roasted coffee using filtered water. Other ingredients often include sugars, cardamom and serving cups. Traditional Turkish coffee pots are made of copper and just large enough to provide a serving of the coffee. Preparation methods utilize low heating which extends brewing time to bring out a unique flavor from the beans.
What makes this coffee unique is the brewing time and used of finely ground coffee beans, which are often served in powdered form. Properly made coffee contains froth at the top and is then combined with sugars and (optionally) milk to give it a unique flavor profile. This foam is considered a signature of a well made cup of coffee, and has influenced preparation methods for European coffee as well. The coffee is served hot to the taste, and with cinnamon or chocolate sticks, making it an ideal post-meal desert or drink.
---
Coffee Reviews
Coffee/Tea/Kitchen Appliance Product Reviews
Cappuccino | Coffee Growing Countries | Coffee of the Month Clubs | Coffee Substitute | Flavored Coffees | Frappes | History by Country | Iced Coffees | Instant Coffees | Keurig K-Cups | Lattes | Low Acid Coffees | Mocha Coffees | Refillable Coffee Pods | Smoothie Drinks | Tassimo T-Discs | Turkish Coffee
---
Post Your Submission Here
If you would like to write a review please fill in the form below. For questions please be specific. If asking a question on merchandise, please give as much information as possible. Such as the brand, make, model, where purchased, etc.