French Press Coffee Maker
Connoisseur Equipment
French Press Coffee Makers.
Ask any connoisseur how he likes his coffee. French Press coffee is the answer you'll get, in nine cases out of ten. Coffee lovers all over the world mostly agree that this is the best equipment for brewing coffee. It preserves the full flavor of the oils, and delivers your favorite drink in a smooth, creamy and rich brew.
The French Press Coffee Maker is essentially a tall narrow glass cylinder fitted with a plunger that includes a filter. The coffee and hot water are mixed in the cylinder (usually for not more than a few minutes), and then the plunger, in the form of a metal foil, is pressed down, leaving the coffee at the top ready to be poured. They are also called a cafetiere, a 'plunger' or a 'press pot'. Using a French Press Coffee Maker, you can manually control the water temperature and exposure time that results in a steaming and tantalizing rich cup of coffee.
There are several methods of brewing coffee – boiling (think Turkish coffee), pressure brewing (espresso being an example), drip brewing (as in the electric percolator), and steeping. The French Press Coffee Maker is an example of this last technology, and is said to preserve most of the natural aroma and flavor of the coffee beans.
High-quality French Press Coffee Makers most often use conical burr grinders as their source of ground coffee, because these grinders rotate at low speeds (usually not more than five hundred revolutions per minute). This prevents the grinding from generating too much heat. Other methods that use faster grinding techniques stand the risk of heating the ground coffee too much, making the delicate flavoring oils to evaporate.
Any type of coffee will work in a them, but some people find certain varieties more desirable than others. Many connoisseurs prefer dark roasted coffee with a full body and medium to low acidity. You may want to buy a full city or French roast bean like Tanzania Peaberry, Sumatra or Ethiopian Yirgacheffe. A coarse grind will work best with this type of Coffee Maker, because it will ensure that the mesh screen successfully filters the ground particles and separates the liquid from the sediments.
To make coffee, add two level tablespoonfuls of coarse ground coffee for every six ounces of water. Pour the cold water in a teakettle and bring it to a boil. When the water is pulled off the flame, it will naturally cool slightly, to just a bit under 212 degrees Fahrenheit (or 100 degrees Celsius, which is, of course, the boiling point of water). Now pour the water directly into the Coffee Maker over the coarse grounds. In two to fours minutes, the coffee should be ready to drink. Press down the plunger and pour the rich, aromatic liquid off the top.
Coffee prepared in a French Press Coffee Maker is best enjoyed black (without sugar, milk or cream).
Chrome plated brass frame
Dishwasher safe parts
Glass carafe
Replacement parts available
Not for stovetop use
Often Purchased Together

Bodum 12-Ounce Coffee Press Replacement Beaker, Glass
Bodum Chambord Model #1928-16US6 French Press
Capacity of 32 ounces
Frame is constructed of sturdy chrome plated brass
Glass carafe is easy to clean
Not to be used on the stovetop
To close spout turn lid
Dishwasher safe parts
Often Purchased Together
Krups 203-42 Fast Touch Coffee Grinder, Black
Aroma AWK-115S Hot H20 X-Press 1-1/2-Liter Cordless Water Kettle
---
Thermos Nissan 34-Ounce Vacuum Insulated Stainless-Steel Gourmet Coffee Press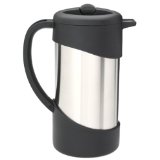 Keeps coffee hot for hours
Holds a little over 1 quart
Hand wash with mild detergent
5 year warranty.
Often Purchased Together

Proctor Silex K2070H 1-Quart Automatic Electric
Kettle, White
Few coffee makers are capable of revealing the full taste and aroma of high quality coffee beans.
BODUM EILEEN professional coffee maker is one of the very few to meet this demanding requirements.
Bodum's professional coffee maker, was conceived in the honor of the great designer Eileen Gray.
32-ounce or 8-cup capacity
Stainless-steel frame
Stainless-steel press mechanism
Glass carafe
Easy grip santoprene-coated handle
Dishwasher-safe
Replacement parts available
Elegant and functional coffee makers to the highest standards
Often Purchased Together

Bodum 34-Ounce Coffee Press Replacement Beaker, Glass
Krups GX4100 Electric Coffee and Spice Grinder
---
Coffee Product Reviews
---
Post Your Submission Here
If you would like to write a review please fill in the form below. For questions please be specific. If asking a question on merchandise, please give as much information as possible. Such as the brand, make, model, where purchased, etc.