West Bend Percolators
---
Reviews of West Bend Percolators
---
Percolators by West Bend. Items include 54149 12-Cup Percolator, and 54159 12-Cup Percolator.
---
West Bend 54149 12-Cup Automatic Coffee Percolator, Stainless Steel
West Bend Model 54149 Coffee Percolator
Capacity of 12 cups of coffee
Stainless steel housing that is highly polished
Base and handle are made of black phenolic
Filter basket and perk tube are both stainless steel
Located in the handle is a coffee level indicator
Detachable cord to let you serve coffee anywhere
800 watts of brewing power
Indicator light for when the brewing is finished
Warranty that is limited and lasts for one year
Unit measures 7.5 inches by 5.75 inches by 12 inches
Melitta White Wrap Around Coffee Filters for Percolators
---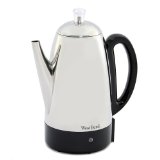 West Bend Model 54159 Percolator
Stainless steel housing
After brewing is complete unit will automatically switch to keep warm mode
Detachable cord makes it easy to serve coffee anywhere
Coffee level indicator
Indicator light comes on when coffee is ready to serve
Handle is cool to the touch
Base is stay cool
Unit measures 9 1/5 inches by 6 1/5 inches by 12 1/5 inches
Brewing capacity of 2 to 12 cups



---
Post Your Submission Here
If you would like to write a review please fill in the form below. For questions please be specific. If asking a question on merchandise, please give as much information as possible. Such as the brand, make, model, where purchased, etc.

---
Related Buyer Guides
Coffee InformationBialetti Percolators | Coleman Percolators | Copco Percolators | Corning Percolators | Dualit 84038 Percolator Review | Farberware Percolators | Fresco Percolators | Hamilton Beach Percolator | Open Country Percolators | West Bend Percolators
---