Dualit 84038
Cordless Coffee Percolator Review
Dualit 84038 Cordless Coffee Percolator:
Percolators are not as popular today as they were in the past. Most coffee drinkers believe the constant boiling of the water tends to make the coffee have a burnt taste. However, there are those people who believe it makes better coffee than most modern types of coffeemakers. Percolator reviews are for those coffee drinkers who still believe that a percolator makes superior coffee.
This particular model is a Dualit and is polished stainless steel with a 1 1/2 liter capacity. As percolators usually have, this one has a translucent lid knob with a concealed element. Relatively light for a coffeemaker at four pounds, it measures 10.3 x 8.4 x 8.3 inches. Brewing time is approximately 10 minutes.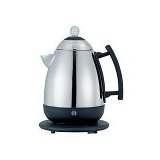 Here are some of the pros and cons according to customer reviews. Reviews are mixed on the taste of the coffee. About half stating it makes the best coffee ever, and the other half complaining of a burnt taste and coffee grounds in the bottom.
Dualit 84038 Cordless Coffee Percolator PROS:
Brews a great tasting cup of coffee.
Easy to clean.
Coffee is Hot.
Cordless

Dualit 84038 Cordless Coffee Percolator CONS:
Customer service is very slow, and the cost of replacement parts including shipping is prohibitive.
Coffee grounds in bottom of pot.
Automatic shut-off frequently fails to work leading to constant boiling of brewed coffee leaving a burnt taste.
Knob breaks easily.
Bottom leaks.
Other Percolators

This is a stainless steel percolator which will brew from four to twelve cups.
Cuisinart PRC-12 Percolator

Stainless steel percolator that brews 4 to 8 cups coffee, with a permanent filter basket, parts are dishwasher safe.
Presto 02811 12-Cup Stainless Steel Coffeemaker

800 watt percolator with detachable cord, light signals when coffee is brewed, stainless steel body and filter basket.
---
Post Your Submission Here
If you would like to write a review please fill in the form below. For questions please be specific. If asking a question on merchandise, please give as much information as possible. Such as the brand, make, model, where purchased, etc.