Jacobs Instant Coffee
---
Jacobs Instant Coffee Reviews
---

Jacobs Cronat Gold Instant Coffee
200 grams of Jacobs Cronat Gold Instant Coffee. This mild instant coffee has just the right balance and is full flavored, but without any bitterness. Instructions are on the label in 9 languages.
---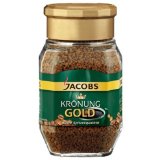 Jacobs Kronung Gold - Instant Coffee
100 percent finest quality instant coffee from Germany. This is one of Jacobs finest coffees. This is 200 grams of instant coffee.
---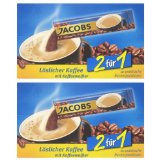 Jacobs Instant Coffee with Cream
Jacobs 2 in 1- Instant Coffee with Cream
This is Jacobs 2 in 1 instant coffee that comes with cream. Each package makes one cup of coffee. Coffee is imported from Germany.
---
Jacobs Ice Coffee - Unavailable

2 cans - Unavailable
275 grams of Jacobs Ice Coffee from Germany. Each can makes around 20 cups of instant coffee. Mix with milk with the option of topping off with ice cream or whipped cream. Especially good in the summer, but great for any season.
---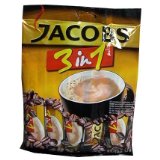 This is a 10 pack of Jacobs 3 in 1 instant coffee for a total of 120 grams. Each pack makes one cup of instant coffee. Each pack contains instant coffee, milk flavor, and sugar. This is coffee from Bulgaria.
---
Jacobs Aroma Instant Coffee - 50 grams
---
Post Your Submission Here
If you would like to write a review please fill in the form below. For questions please be specific. If asking a question on merchandise, please give as much information as possible. Such as the brand, make, model, where purchased, etc.

---
Buying Guides
Coffee Information | General Foods Cappuccino Mix | Jamaica Mountain Peak Instant Coffee | Maxwell House Instant Coffee | Mount Hagen Instant Coffee | Nescafe Instant Coffee | Pero Instant | Vinacafe Instant Coffee | History of Instant Coffee
---