Jamaica Mountain Peak Instant Coffee
---
Jamaica Mountain Peak Instant Coffee Review
---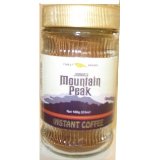 Jamaica Mountain Peak Instant Coffee, 3.5oz
If you want great tasting coffee, give this a try. Everyone who tries it seems to enjoy it's nice mild flavor. Coffee is blended with the finest 100% Arabica coffee beans thus making it a superior instant coffee. These beans are grown in Jamaica and are Arabica Typica, a superior variety of bean. They will provide your coffee with body, smoothness, and a rich flavor that will give you a superior cup of brewed instant coffee. You might also want to give Jacobs Cronat Gold Instant Coffee
a try. This is another great instant coffee.
---
Post Your Submission Here
If you would like to write a review please fill in the form below. For questions please be specific. If asking a question on merchandise, please give as much information as possible. Such as the brand, make, model, where purchased, etc.

---
Buying Guides
Coffee Information | General Foods Cappuccino Mix | Java Juice Coffee Extract | Maxwell House Instant Coffee | Mount Hagen Instant Coffee | Nescafe Instant Coffee | Pero Instant | Vinacafe Instant Coffee | History of Instant Coffee
---