Pero Instant Buying Guide
---
Pero Instant Reviews
---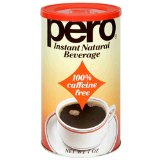 Pero Natural Instant Chicory Beverage
6 Pack of 7 ounce canisters of Instant Pero Natural Beverage. This is a beverage with a coffee-like taste that is natural, caffeine free, and blended using malted barley, barley, chicory, and rye. No sleeplessness, elevated blood pressure or heart rate with this drink. Contains no stimulants such as caffeine. Also, no upset stomach as this is a low acid beverage. This is a product of Switzerland. Directions: Pero is an instant hot beverage. Put one heaping teaspoon into a cup. Add boiling water, stir. Add milk and sugar to taste if desired.
---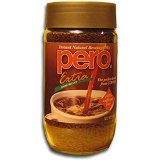 Natural Beverage Coffee Substitute
This is a 12 pack of 5.25 ounce jars of an extra dark roast coffee substitute that is an all natural beverage. No caffeine, and no sugar.
---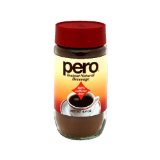 Pero Instant Natural Beverage Coffee Substitute
This is a 12 pack of 4.4 ounce jars of Instant Pero Natural beverage that is a coffee substitute. Contains absolutely no caffeine or sugar.
---
Post Your Submission Here
If you would like to write a review please fill in the form below. For questions please be specific. If asking a question on merchandise, please give as much information as possible. Such as the brand, make, model, where purchased, etc.

---
Buying Guides
Coffee Information | General Foods Cappuccino Mix | History of Instant Coffee | Cafe Du Monde Coffee & Chicory
---