Cafix Chicory
All-Natural Instant Beverage
---
Cafix Chicory Reviews
---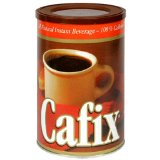 Cafix All-Natural Instant Beverage
Cafix All-Natural Instant Beverage, this is a 6 pack of 7 ounce tins for a total of 42.3 ounces. 100% caffeine free and all natural ingredients. Made with extract of red beet, figs, malted barley, barley, and chicory. This beverage is low in acidity, has no artificial ingredients, and has a coffee-like flavor. Perfect alternative to caffeinated beverages such as coffee. Enjoyable both hot and cold.
---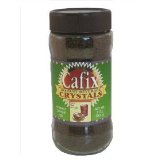 7 ounce Package
Made in Poland
Product is naturally caffeine free
Can be served either cold or hot
Instant beverage crystals with a coffee like flavor
Rich and robust flavor without the acidity or caffeine of coffee and tea
Package yields approx 100 cups



---

5 pack of 3.5 ounce canisters
Product is naturally caffeine free
Similar to Postum
Ingredients are all natural
Coffee Substitute
Made in Switzerland



---
Post Your Submission Here
If you would like to write a review please fill in the form below. For questions please be specific. If asking a question on merchandise, please give as much information as possible. Such as the brand, make, model, where purchased, etc.

---
Chicory Coffee Buying Guides
Coffee Beans, Coffee Machines, Grinders, Teas & More
| Cafix Chicory All-Natural Instant Beverage | Pero Instant Natural Beverage
---