Soltazza Barista Coffee System
---
Soltazza Barista Coffee System Reviews
---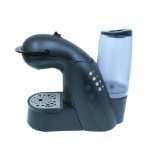 Soltazza N-1400B Mini Barista Single Serve Brew System - Black
Soltazza N-1400SB Mini Barista Single Serve Brew System - Silver/Black
System is for single serve pods and will give you brewed espresso, tea, or coffee at the push of a button. Optimal coffee extraction with the state-of-the-art pre-infusion feature. No inter-mixing of flavors or tastes from previous beverages with the post cleansing feature. Italian pump automatically self-primes and has a quick warm up cycle. Features an evergy efficient automatic shut-off, automatic water temperature control, computeriezed water level monitoring, sleek design, and a compact footprint.
---
Post Your Submission Here
If you would like to write a review please fill in the form below. For questions please be specific. If asking a question on merchandise, please give as much information as possible. Such as the brand, make, model, where purchased, etc.

What Other Visitors Have Said
Click below to see comments & reviews from other visitors to this page...

Permanent Filter Available? Not rated yet
Question: I have a Mini-Barista. I lost the owners manual. The model number is not printed on the tag on the bottom, so I do not know what it is. …
---
Related Buyer Guides
Coffee Information | Espresso Machines | AeroPress Coffee & Espresso Maker | Alessi Espresso Coffee Makers | Ariete Elisir Cafè Review | Bennoti N-1001 Espresso and Cappuccino Maker Review | Bosch Espresso Machines | Breville Espresso Machines | Capresso Espresso Machines | Soltazza Barista Coffee System
---