Hamilton Beach Coffee Urns
---
Reviews of Hamilton Beach Coffee Urns
---
Coffee Urns by Hamilton Beach.
Models include Silver 40515 42-Cup Coffee Urn, and Silver 40540 Brew Station 40-Cup Coffee Urn.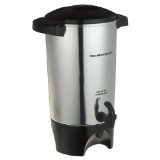 Hamilton Beach 40515 42-Cup Coffee Urn - Silver
Capacity of 12 to 42 cups
Body is constructed of polished aluminum
Features a light indicating when the coffee is ready to serve
2 way dispenser for filling cups or for filling a larger carafe
Water level markings on the urn
Features a locking lid and heat resistant handles
Lid and brew basket are both dishwasher safe
Detachable cord
Warranty provides limited coverage for 2 years



---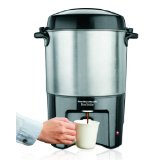 Hamilton Beach 40540 Brew Station 40-Cup Coffee Urn - Silver
One handed dispensing - doesn't work for soft cups such as a paper cup
Removable drip tray for easy cleaning
Brews at the rate of 45 seconds per cup with the center heater
After brewing the main heater shuts off and a keep-warm heater turns on
Features comfort grip handles and a ready light



---
Post Your Submission Here
If you would like to write a review please fill in the form below. For questions please be specific. If asking a question on merchandise, please give as much information as possible. Such as the brand, make, model, where purchased, etc.

---
Related Buying Guides
Coffee Information | Hamilton Beach Coffee Urns
---