French Market Coffee & Chicory
---
French Market Coffee & Chicory Reviews
---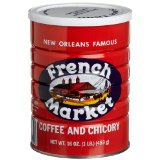 Blended and packaged in New Orleans. This is a medium dark roast blended with coffee beans and imported French chicory. 3 pack of 16 ounce cans. Coffee made with chicory is much darker than regular coffee and therefore you will need much less to give you a great brewed beverage. Low in acidity, not bitter and contains less caffeine than most other coffees.
---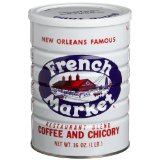 Coffee & Chicory, Restaurant Blend
This is French Market Restaurant blend of coffee and chicory that comes as a 3 pack of 16 ounce cans.
---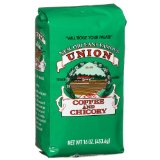 Union Coffee & Chicory, Ground
Only recently has it been sold outside of New Orleans. It is bold, strong, very dark, yet smooth with no bitterness. Comes as a 3 pack of 16 ounce bags.
---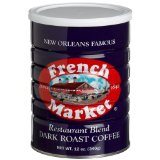 Restaurant blend dark roast is dark and strong tasting. 3 pack of 12 ounce cans.
---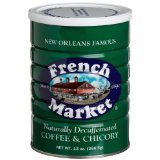 Coffee & Chicory Decaffeinated
Naturally decaffeinated French Market Coffee & Chicory. Absolutely no bitterness! Has a sweet, nutty taste that is full bodied and robust. Blended with 100% Colombian coffee beans and spicy, chocolate flavored chicory that will stisfy the taste buds of anyone who likes authentic New Orleans coffee and chicory. Cost less to use than regular coffee as you don't need to use nearly as many coffee grounds per cup. 3 pack of 13 ounce cans.
---
City blend is a darker roast of French Market coffee and chicory. 3 pack of 16 ounce cans.
---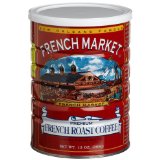 French Market French Roast 3 pack of 13 ounce tins. Even though French Roast indicates a darker roast, of the coffees we provide, this is one of our lighter roasts. It is the only pure coffee we offer in a can. If you like a slightly toasted New Orleans flavor in your coffee, this is for you.
---
Cafe New Orleans Whole Bean Coffee
French Market Cafe New Orleans, Whole Bean. 3 pack of 12 ounce bags. A dark roast of prized Indonesian, African, and South American beans carefully blended to deliver a cup with heavy body, enticing aroma, and a flavor as complex as its New Orleans namesake.
---
Post Your Submission Here
If you would like to write a review please fill in the form below. For questions please be specific. If asking a question on merchandise, please give as much information as possible. Such as the brand, make, model, where purchased, etc.

---
Related Buyer Guides
Coffee Brands | BackCountry Coffee Roasters | Boyer's Coffees | Café Altura Coffees | Dunkin Donuts Coffee | Folgers Coffee | French Market Coffee | Maxwell House Coffee | Pura Vida Coffee | Seattle's Best Coffee
---