Cuisinart Grinder Reviews
Cuisinart Grinder Model Grind Central DCG-12BC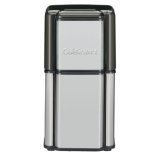 Cuisinart DCG-12BC Grind Central Coffee Grinder
Housing is brushed stainless steel
Stainless steel grinding bowl with a 90 gram capacity
Heavy duty motor for dependability
Stainless steel blade assembly that is removable and dishwasher safe
Removable stainless steel bowl is dishwasher safe
Extra coffee can be stored in the grinding bowl with the storage lid
Measurement markings
Transparent cover
Store leftover coffee in the grinding bowl
Single On/Off button controls grind consistency
Built-in safety interlock
Cord storage
Limited 18-month warranty
Model Number DCG-12BC
Unit measures 8.9" x 5.9" x 5"
Customer Reviews
Summary
This grinder has a decent capacity, a heavy duty powerful motor, looks good in your kitchen, is decently quiet for a grinder, features a cord storage for less clutter on your kitchen counter, and provides grinding that is not messy. Plus, you can store extra grindings with the lid for the stainless steel blade cup. Grinder is for coffee only, not useable for nuts and spices as this would prematurely dull the blades.
Frequently Bought Together
16-Ounce Coffee Vault, Stainless Steel
EZ Grip Regular Coffee Canister, Black
---
Cuisinart DCG-20 Grind Central Coffee Grinder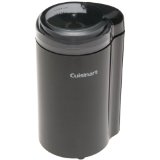 Cuisinart Model DCG-20
2.5 ounce capacity which will provide enough grinds for 12 cups of coffee
Stainless steel bowl and blades
Cord Storage
Lid has markings that are easy to read
Clean using a damp cloth
Do not immerse
Unit measures 4" x 4" x 7"
Unit weighs 1.7 pounds
Customer Reviews
Summary
Nothing fancy about this grinder. It does what it is designed to do. Simply fill with coffee beans, press the on button, and out comes grinds for making your coffee. It is on the noisy side, but then it is very affordable.
Frequently Bought Together
Bean Vac Coffee Canister
Yohki 20-Ounce Glass Storage with Stainless Steel Lid
---
Cuisinart DBM-8 Supreme Grind Automatic Burr Mill
Cuisinart DBM-8 Supreme Grind Automatic Burr Mill
Heavy-duty motor
18 grind settings ranging from ultra fine to extra-coarse
Grind settings are controlled by a marked, clicking dial
Slide dial from 4 to 18 cups
Burr plates for a highly uniform grind that protects bean oils and releases more flavor
Grind chamber slides out with its lid in place
Brushed stainless steel housing and black accents in durable plastic
Removable hopper, hopper lid, grinding burr, and grind chamber for easy cleaning
Unit measures 6.75" x 9.75" x 5"
Built-in power cord storage at its base
18 month warranty
Includes a coffee scoop/cleaning brush in one
Cuisinart Grinder Model Number DBM-8
Customer Reviews
Summary
This is an inexpensive grinder that does a decent job of grinding coffee beans for making coffee. Don't expect to use it for espresso, it isn't good enough for that. But it is dependable for coffee, though it is noisy.
Frequently Bought Together
Coffee Grinder Cleaning Brush - 5 Inch
Wooden Coffee Grinder Cleaning Brush
---
Cuisinart CBM-18 Programmable Conical Burr Mill
Cuisinart CBM-18 Programmable Conical Burr Mill
Brushed stainless housing
Programmable
Conical burr mill
Easy to read LCD display shows time, fineness and number of cups
Cord storage and scoop/cleaning brush.
Fully programmable Cuisinart grinder
3 year limited warranty
16 ounce capacity hopper
Cup selector from 1 to 14 cups
18 position grind selector from ultra-fine for espresso to extra coarse for French press
Removable grind chamber
Heavy duty motor
Delivers a full-flavor, uniform grind without heating the beans.
Cuisinart Grinder Model Number CBM-18
Customer Reviews
Summary
Coffee mill runs quietly, fast, and with less burn taste from the grinds. The grinding is consistent. It has a light up LCD display and a start/stop switch. Adjusting the grind is easy, but static is a slight problem, but nothing too bad.
Frequently Bought Together
Senseo Brabantia Canisters, Bronze/Silver
Coffeevac 1 Pound Vacuum Sealed Coffee & Tea Storage Canister
---
Coffee Grinder Reviews
Coffee Information | Grinders | Ascaso | Baratza | Better Chef | Black & Decker | Bodum | Bosch | Braun | Breville | Capresso | Basics of Coffee Grinders | Cuisinart Grinder | Gaggia | Grindmaster | Hamilton Beach | Hand Operated | KitchenAid | Krups | LaPavoni | Manual | Mazzer | Mr. Coffee | Proctor Silex | Rancilio | Saeco | Solis | Toastmaster
---

*Paid Advertising
Pass your test exam certification in first attempt using Pass4sure 646-205 & Pass4sure PMI-001 guide for final papers. The homemade christmas gifts really a very captivating outlet that proved worlds foremost online luxury approach destination. Our straight jacket has fantastic selection as well, womens motorcycle boots that hold treasured memories close to the heart.
Post Your Submission Here
If you would like to write a review please fill in the form below. For questions please be specific. If asking a question on merchandise, please give as much information as possible. Such as the brand, make, model, where purchased, etc.