Bunn A10
Pour-O-Matic Coffee Brewer
Bunn A10 Pour-O-Matic Coffee Brewer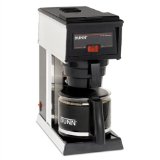 This coffee maker comes in two different styles. The features presented here are for the more popular and less expensive pour-o-matic brewer. The unit brews 2 to 8 six ounce cups of coffee per batch very quickly. It features a convenient brew-pause feature allowing you to pour yourself a cup of coffee while the unit is still brewing. No need to wait for the complete brewing cycle to finish. Keep-warm function which preheats water for other beverages such as tea, hot chocolate, or soups. Included with your brewer is a deliming spring, two packs of filters, and an instruction booklet. The unit measures 14.25" x 6.75" x 13.5". You get a 1 year product warranty and a 3 year limited service warranty with this unit.
Like other Bunn brewers this is a very versatile, sturdy, and well designed coffee maker. After filling the water tank it takes about 15 minutes to preheat the water to brewing temperature. Once you have the water preheated you can brew coffee in 3 minutes just by adding more water. This unit can brew 2.7 gallons of coffee per hour. This is an 8 cup coffee maker with a space saving design that is designed to fit on any counter top. The decanter/carafe is included with this Black 120 volt coffee maker.
Customer Reviews from Amazon

Bunn A10 Pour-O-Matic PROS:

Brews coffee in 3 minutes
Professional Model but also suitable for home use
Metal spray head is replaceable
Few working parts
Separate on/off switch for the heater unit
NCD decanter provided which is more suitable for home use (not the one pictured)
Decanter very easy to clean
Coffee hot enough for everyone
Water is always hot for tea, hot chocolate, soups, or hot cereals
Very durable, they last for over 10 years
Makes smooth and rich tasting coffee


Bunn A10 CONS:

High Energy user due to the water heater being on constantly, but you can turn it off separately if desired
Replacement parts are not available to consumer, but are available from dealers

Often Purchased Together
BCF100-T 100-Count Basket Filter
Capresso Infinity Conical Burr Grinders
Replacement 8 cup Paper Coffee Filters
Replacement 10 Cup FiniSoft Heat Decanter 20435.0000 in Black
---
Bunn Reviews
Coffee Information
Bunn A10 Pour-O-Matic Coffee Brewer | Coffee Makers | Airpots | Coffee Filters
---
Post Your Submission Here
If you would like to write a review please fill in the form below. For questions please be specific. If asking a question on merchandise, please give as much information as possible. Such as the brand, make, model, where purchased, etc.