Breville Coffee Maker Reviews
BDC600XL YouBrew Drip Breville Coffee Maker
Breville spent years perfecting this single serve coffee maker just for you! Some features include 7 brew strength settings, 5 flavor settings, an integrated burr grinder, and the ability to brew directly into your cup or travel mug. Accessories to complement this coffee maker include Breville Milk Café Milk Fother,
The Breville One-Touch Tea Maker,
and the Breville BTA840XL Die-Cast 4-Slice Smart Toaster.
---
Breville BKC600XL Gourmet Single-Cup Coffee Brewer
Breville BKC600XL Gourmet Single-Cup Coffeemaker
Single serve coffee brewer
Constructed of heavy duty stainless steel
Off flavors and smells removed with the internal water filter
You can customize four different cup sizes and your preferred brewing temperature with the programmable LCD screen
Precise amount of water needed is dispensed by the patented showerhead
Unit measures 15" x 13.2" x 16.8"
Customer Reviews
Summary
This is a single serve coffee maker that uses k-cups that were designed by Keurig. You will have over 150 premade K-Cups available in coffee, tea, and hot chocolate. You can also use reusable k-cup filters that allows you to make your own k-cups with whatever coffee brand or flavor you want to use. So your selection is virtually limitless. Breville has a patented showerhead that sprays a precise amount of water through the k-cup.
Frequently Bought Together
Keurig My K-Cup Reusable Coffee Filter
Breville BKC600 Gourmet Single Cup Coffee Brewer Replacement Filters, 6-Pack (BWF100)
---
Breville BKC700XL Gourmet Single-Serve Coffee Maker with Iced-Beverage Function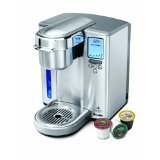 Breville Coffee Maker Model BKC700XL
1500 watts of power
Showerhead spray
Quiet pump technology
Variable brew temperature
Digital clock
Automatic shut-off
5 different brewing strengths
LCD control panel
60 ounce removable water tank
Charcoal water filter
Iced-beverage function
Measures 14.75" x 12.75" x 16.75"
Customer Reviews
Summary
This Breville coffee maker uses Keurig k-cups. It brews quietly so nobody will be woken up by your first cup of coffee in the morning. Has a hidden storage space in the top of the unit where you can store your measuring scoop and reusable k-cup. Well built and made to last being constructed of solid stainless steel. Attractive also. The controls are illuminated for easy visibility.
Frequently Bought Together
Solofill Cup, Refillable K-Cup For Keurig K-Cup Brewers
Breville BKC100 K-Cup Carousel, Silver/Black
---
Coffee Maker Reviews
Coffee Information | 1 Cup Brewers | 2 Cup Coffee/Espresso Brewers | 4 Cup Brewers | 6 Cup Brewers | 12 Volt Brewers | Coffee Makers | Cold Brewers | Espresso Machines | French/Coffee Press | Keurig | Percolators | Siphon Brewers | Under Cabinet | Urns | Vacuum Brewers
---
Post Your Submission Here
If you would like to write a review please fill in the form below. For questions please be specific. If asking a question on merchandise, please give as much information as possible. Such as the brand, make, model, where purchased, etc.