Bodum Santos
Stovetop Coffee Maker Review
Bodum Santos Stovetop 34 Ounce Glass Vacuum Coffee Maker
Bodum Santos Stovetop Glass Vacuum 34-Ounce Coffee Maker with 1/2 lb Colombia Supremo Gourmet Coffee - Sold Out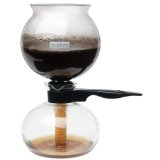 This is a Bodum Model Number 1208-01 Stovetop Glass Vacuum Coffeemaker. 34 ounce capacity which is six 5 ounce cups of coffee. The unit is made of heat resistant glass and durable gleaming nylon. The carafe has a stay-cool handle with a stopper to keep the coffee warm. Unit is dishwasher safe and comes with a coffee scoop and resting stand. The coffeemaker measures 9 1/4 inches x 6 inches x 11 1/2 inches and weighs about 1.6 pounds.
When you have guests over to the house, you can entertain them with this unique method of brewing coffee. The boiling water will rush from the bottom jug to the upper one and then mix with the finely ground coffee. After several minutes on the stove, a vacuum will form in the base which will then pull coffee through the filter and back into the bottom jug. This is accomplished by combining the ideal water temp with the perfect brewing time to bring you superb tasting coffee. This brewer will give you the best tasting coffee you have ever experienced. Even better than french press brewed coffee.
PROS:
Brews outstanding coffee that is smooth and full flavored
Brews hot coffee
Cleaning is easy when done soon after brewing
Reusable filter
Esthetically pleasing
No sedimentCONS:

Requires more effort than a drip coffeemaker
Only makes 8 cups
Uses more grounds than percolator or drip coffeemaker
Unit is top heavy
Made of glass so handle with care

Bodum Santos Stovetop Summary:
Makes fantastic tasting coffee. Does take some extra effort to use this brewer though. But it is well worth the effort. The glass parts are much better for giving you coffee without that plastic taste. However, they are more fragile. If you want great tasting coffee and don't mind the extra effort, this is for you.

Often Purchased Together

Bodum Pavina Double-Wall Thermo Glasses
Bodum 05-3000-3PK Santos Coffeemaker Cleaning Powder
---
Vacuum Coffee Maker Reviews
Coffee Information | Bodum Vacuum Coffee Makers | Bodum SantosStovetop Glass Vacuum 34-Ounce Coffee Maker Review | Butane Micro Burner | Siphon Coffee Makers | Yama Coffee Brewers & Accessories | Yama Tabletop 5 Cup CoffeeSiphon & Vacuum Pot | Yama 8 Cup Vac-PotVacuum Pot Siphon Coffee Brewer
---
Post Your Submission Here
If you would like to write a review please fill in the form below. For questions please be specific. If asking a question on merchandise, please give as much information as possible. Such as the brand, make, model, where purchased, etc.