Black and Decker DCM2500
12-Cup Programmable Coffeemaker
---
Black and Decker DCM2500 Coffee Makers from Amazon
---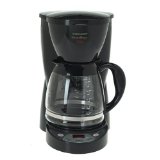 This is a very popular 12 cup coffee maker made by Black and Decker. Currently in the top 15 sellers at Amazon in the Coffee, Tea & Espresso Appliances category of Home & Garden. Has been in the top 100 seller list for over 8 months to date. Features a digital clock and a delayed start so that you can wake up to freshly brewed coffee, or maybe come home from work and have a fresh cup as soon as you get home.
The glass carafe has a drip-free pouring spout, no more drops of coffee everywhere. Features 2 water windows and has a sneak-a-cup feature that always you to get a cup of coffee before the brewing cycle is completed. For safety and ease of mind you have an automatic shut-off feature that shuts off the coffeemaker after two hours. The brewer measures 13 inches tall, with the lid raised it needs 22 inches. Comes with a 1 year warranty. Dimensions are 12.5 inches by 9.2 inches by 14.1 inches and weighs 5.5 pounds.
This popular Black and Decker DCM2500 coffeemaker is programmable and the programming is relatively easy to do. There are printed directions and touch-pad buttons. To use you lift the hinged lid to get to the brew basket, than place a flat-bottomed paper filter along with your favorite ground coffee into the filter. Then just pour in the water, close the lid, and push the on button. If you want a delayed start use the auto/on and the clock buttons to program the time you want it to start brewing.
The glass carafe has a wide lip which allows for the drip free pouring. Coffee can stay hot for up to two hours if the carafe is left on the stay-hot plate. The broad bottom of the carafe gives you a uniform heating surface. The Black and Decker DCM2500 Coffeemaker has a unique hourglass shape and comes in either black or white. You can clean the brew basket and the glass carafe on the top shelf of your dishwasher. Also features cord storage space.
Black and Decker DCM2500 Programmable Coffeemaker PROS:
No leaking
No dripping while pouring
Inexpensive
"Perfect Pour Carafe" with a wider spout
Large handle on carafe
Hinged lid on the water reservoir
Accurate water level windows on both sides of the unit
Auto-shutoff after 2 hours
Cord storage
Very reliable
Filter basket is easy to remove for cleaning
Uses standard flat bottomed filters
Time & function displays are large and shine bright
Programming is simple
Esthetically pleasing
Makes very good coffee
Can make fewer than 12 cups - just fill the water to the # of cups you want brewed & adjust the amount of grounds used


Black and Decker DCM2500 Programmable Coffeemaker CONS:

Sneak-a-cup design causes a couple of drops to leak when used
May be a little difficult to clean
Warming plate may rust if the carafe is damp when you set it on the plate
Coffee not hot enough for those who like really hot coffee
Doesn't come with a permanent filter (One can be purchased separately)
No signal when the brewing is done
No warning when the 2 hour warmer shuts off

Black and Decker DCM2500 Programmable Coffeemaker Summary:
Overall this Black and Decker DCM2500 is a very good coffeemaker for the money. Doesn't come with a permanent filter but you can purchase them separately. Very few negatives. One mentioned several times was that the coffee isn't hot enough. The majority of users stated it was hot enough for them. But if you like your coffee extra hot this unit is probably not for you. It got high marks for the carafe which doesn't ever leak. A couple of negatives on the warming plate. If you leave condensation or any water on it repeatedly it probably will rust eventually. Also, the teflon may flake off after constant use. However, these problems where not widely reported by users.
Customer Reviews from Amazon
Often Purchased Together with the Black and Decker DCM2500
Krups Fast Touch Coffee Grinders
KitchenAid 2-Slice, Two-Slot Toaster
Mr. Coffee Electric Coffee Grinder with Chamber Maid Cleaning System
---
Black and Decker DCM2500 Related Buyer Guides
Coffee Information | B&D Coffee Makers | B&D DCM7 Coffeemakers | B&D DCM18S Personal Coffee Maker | B&D DCM600W Coffeemaker | B&D GT300 Home Café Coffeemaker | B&D ODC440 Spacemaker Coffee Maker | B&D SDC740B SpaceMaker Coffeemaker | B&D SDC850 SpaceMaker Coffee Maker | Coffee Mugs | Removing Coffee Stains | Coffee Maker Cleaners | Coffee Makers | Coffee Grinders
---
Post Your Submission Here
If you would like to write a review please fill in the form below. For questions please be specific. If asking a question on merchandise, please give as much information as possible. Such as the brand, make, model, where purchased, etc.