Toddy Coffee Maker
Cold Brew System Review
---
Toddy Cold Brew System Review
---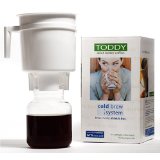 Toddy Coffee Maker Cold Brew System
This unit makes coffee that can be served hot or cold using a patented "cold brew" system. Brewed coffee 67% less acidic than coffee made with traditional brewing machines. This unit doesn't need to be plugged into an outlet as it uses no electricity. The brewed coffee comes out bold and smooth tasting. Uses regular coffee beans so you can use any of your favorite coffee beans. The unit is a very light 4.5 pounds, and measures 7.2 x 7.2 x 12.5 inches.
The Toddy Coffee Maker Cold Brew System can be used to brew tea also. A result of using cold water brewing rather than hot brewing your beverage has no bitter acids or oils resulting in a much smoother taste that is much easier on your stomach. Because of the healthy aspects of brewing cold doctors have recommended cold brewing to patients who have sensitive stomachs.
The brewed coffee is in a concentrated form and can stay fresh for up to three weeks if refrigerated, or several months if frozen. To make a cup of coffee with the concentrate use one part concentrate and three parts water. If preferred hot, heat in a microwave. If preferred cold, serve over ice. The brewing itself takes around eight to twelve hours to brew. Not exactly made for the person who wants a quick brewing system.
Feedback on the Toddy Coffee Maker is overwhelmingly positive. However, there are some negatives. Coffee costs more to brew using the cold brewing system. Cleaning is more difficult than with a hot brewing system. Coffee beans are preferable as grounds result in very little taste. Not recommended. Overall, everyone seems to agree that it makes the best coffee they have ever tasted.
---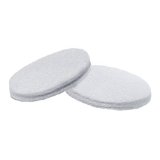 Additional Merchants
Replacement filters for the Toddy Cold Brew System
Set of 2 reusable filters
Lasts up to 3 months





---
Toddy Maker Model DEC Replacement Glass Decanter
Additional Merchants
Designed to be used with the Toddy Cold Brew System
Replacement part made of glass
Decanter is dishwasher safe
Ideal for use with cold liquids
Lid is included with the decanter
Measures 5 inches by 5 inches by 8.8 inches



---
Toddy Rubber Stoppers Model Number STPW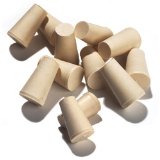 Additional Merchants
Rubber stoppers for the Toddy system
Pack of 12
Stoppers are reusable replacement parts
Constructed of natural rubber
Stoppers measure 4 inches by .8 inches by 5 inches



---
Toddy Brewing Container with Handle
Additional Merchants
Toddy Brewing Container
Constructed of high density polyethylene plastic
Replacement brewing container
Includes the handle





---
Additional Merchants
Toddy Brewing Handle
Replacement part is reusable
Built to be sturdy
Constructed of high density polyethylene plastic




---
Coffee Information
---
Post Your Submission Here
If you would like to write a review please fill in the form below. For questions please be specific. If asking a question on merchandise, please give as much information as possible. Such as the brand, make, model, where purchased, etc.