Braun Tassimo TA1200
Single-Serve Hot-Beverage System Review
---
TA1200 Braun Tassimo Single-Serve Hot-Beverage System Review
---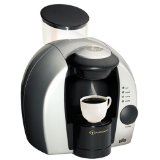 Braun Tassimo TA1200 Single-Serve Hot-Beverage System Review.
This is a Hot-beverage system that brews drinks in about 60 seconds at just the touch of a button. This unit uses patented t-discs that use barcode technology which tells the machine exactly how to brew the drink you choose, setting the brewing time, temperature and amount of water needed. You can set the machine to different strength settings. The t-disc pours your brewed drink directly into your cup ready to drink. The T-disc is a pre-measured method of brewing that requires little if any cleanup after brewing. The water reservoir is a large 50 ounces and the cleanup is easy with the parts being dishwasher safe. The unit comes with a two year limited warranty and measures 10 inches by 15 inches by 16 inches.
This unique system of brewing allows you to brew more than just coffee, you also can brew tea, hot chocolate, espresso, cafe crema, and also real milk cappuccinos and lattes. The T-discs allow you to brew one cup at a time fast and easy with just the touch of a button in about 60 seconds. You have many brands of T-discs to choose from including Gevalia, Suchard and Twinings.
Braun Tassimo TA1200 PROS:

Brews more than coffee including tea, hot chocolate, espresso, cappuccinos etc.
Virtually no clean-up needed after brewing
Most of the removable parts are dishwasher safe
Water container has a filter
Real milk used in lattes and cappuccinos
Full size travel mug fits
Option of manually adjusting the amount of water used by using the start/stop button.Braun Tassimo TA1200 CONS:

No flavored coffees yet, but can use flavored syrups
Louder than drip coffeemakers
Steam and water runoff into drip tray after every brew
Restricted to operation under 6200 ft. elevation.
Related Products
---
Post Your Submission Here
If you would like to write a review please fill in the form below. For questions please be specific. If asking a question on merchandise, please give as much information as possible. Such as the brand, make, model, where purchased, etc.