Starbucks Sumatra Coffee
Starbucks Sumatra Coffee comes in decaf and regular blends. You can purchase whole beans, bagged ground, gift boxes with whole bean or ground, and portion packs for single serving packets.
Sumatra, the sixth-largest island in the world, is home to Mount Kerinci, a 12,467-foot peak. The island of Sumatra produces 70 of Indonesia's income and is home to over 38 million people.
Sumatra has a full, syrupy body with virtually no acidity; so the coffee's intensity lingers in your mouth. The concentrated spicy, herbal notes and earthy aroma are the telltale signatures of this well-loved coffee.
Decaf Sumatra is our most flavorful decaf with an earthy aroma and virtually no acidity. It has a syrupy, full body like Sumatra and will change the way you think of decaf coffees.
---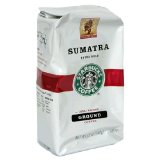 Starbucks Sumatra Coffee, Ground, 12-Ounce Bags (Pack of 3)
Starbucks
Sumatra Coffee
Ground
12-Ounce Bags
Starbucks
Sumatra Coffee
Whole Bean
12-Ounce Bags
18 Individually Pre Measured Packages - Ultimate Freshness
Each package makes one large, full, strong pot of Starbucks Sumatra
Coffee Ground for Drip Brew
Includes 25 Authentic Starbucks Hot Cups - Tall
Includes 25 Authentic Starbucks Insulating Sleeves for Tall Cups



---
Pack of 6
Starbucks Aged Sumatra
8 oz
This is a special coffee that has been aged 3 to 5 years before roasting to give it added depth and more complex flavors.
An extra bold coffee with a heavy, syrupy body and signature spiciness.



---
Starbucks Trivia: Did you know that Starbucks will be offering combo meals for $3.95? Yes, beginning March 3rd, 2009 they will be offering 6 different combos.
Post Your Submission Here
If you would like to write a review please fill in the form below. For questions please be specific. If asking a question on merchandise, please give as much information as possible. Such as the brand, make, model, where purchased, etc.