Kitchen Selectives Coffee Maker Hazard
by Karl
(Roca, NE.)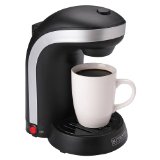 Kitchen Selectives Single Serve Drip Coffee Maker
I bought a "Kitchen Selectives" coffee maker
two weeks ago and found it to be a great machine. The ergonomics of it are what I've been looking for in a coffee maker.
This morning it came on at its usual time of 5:55 am and I poured a cup from it and started to read the paper. I looked up at it and saw smoke coming out of the bottom of it. I got it unplugged, I feel, just in time before it burst into flames! There was quite a bit of smoke from over heated electrical wiring in the bottom. Any longer and I'm sure if it went unnoticed it would have burned my house down. Living out in the country 6 miles from the nearest rural fire department would have made it hard to get there in time to help.
I'm taking it back to the store I bought it from and getting an exchange. I still like the machine and I'm hoping it's just a fluke but I will also tell the store manager about it in hopes he will contact the manufacture.
I also will put a smoke alarm very near the coffee maker just to be a little safer.
Lucky I didn't decide to sleep in.