Cuisinart
DCC-1150 Replacement Carafe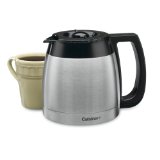 Replacement Thermal Carafe
Question


I am looking for a glass replacement carafe for a cuisinart DCC-1150BLK coffee maker. I see you have one for the stainless steel one but no glass. Do you have this one or will another one work for this maker?
Answer
They only make stainless steel replacement carafes for this model. This unit is designed to be used with a thermal carafe. You might be able to find one that is similar in size made of glass that will work. However, I am unaware of any glass carafes with similar measurements.
Join in and write your own page! It's easy to do. How? Simply click here to return to A - Review.