Compagnia Dell'Arabica
Espresso Pods
Compagnia Dell'Arabica Espresso Pods
.
These pods are made with the gourmet blend of coffees of the company Caffé Corsini which is located in Italy. They have been producing the world's finest coffees for over the past fifty years. They are dedicated to providing products of the highest quality. They do this by hand picking the coffee cherries only when they are ripe, using only the highest grade coffees from hand picked coffee producing countries. Not compatible with Nespresso, Lavazza, Senseo or Melitta style coffee pod machines.
Compagnia Dell'Arabica Espresso Pods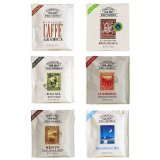 Arabica - Purissimi Caffe Arabica
- An intensely flavored coffee with full and soft aroma.