Cafe Vienna Sugar Free
by Rick Henry
(York, PA)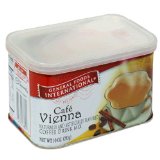 Cafe Vienna Sugar Free General Foods International Coffee
My wife and I are very disappointed you discontinued Cafe Vienna sugar free. We used over 50 cans per year and don't know what we will drink now. Please bring it back. Rick and Joan Henry.


From Randy:
It is my understanding that it is still available but out of stock. Currently you can be put on the waiting list to be notified when
General Foods International Coffee, Sugar Free Fat Free Cafe Vienna Coffee Drink Mix
is again available for purchase.